The dashboard shows an overview of the system status, about:
memory usage, disk occupation and CPU load of your server
the number of active calls and call duration
An overview of the call waiting times of the queues, as well as the selection per queue
The number of incoming blocked calls by IP addresses in time, caught by the blacklist of the BruteForce Protection module
the PBX system services, indicated with h a blue (informative) green operational), yellow and red (not operational) status
Information about the systems configuration, as internal network IP, External (gateway) IP address
The actual Ayrix PBX software version
The maximum number of licensed extensions
The time zone, for calendar usage
It is strongly advised to allow all system users at least read access to the dashboard (see also User Authorization).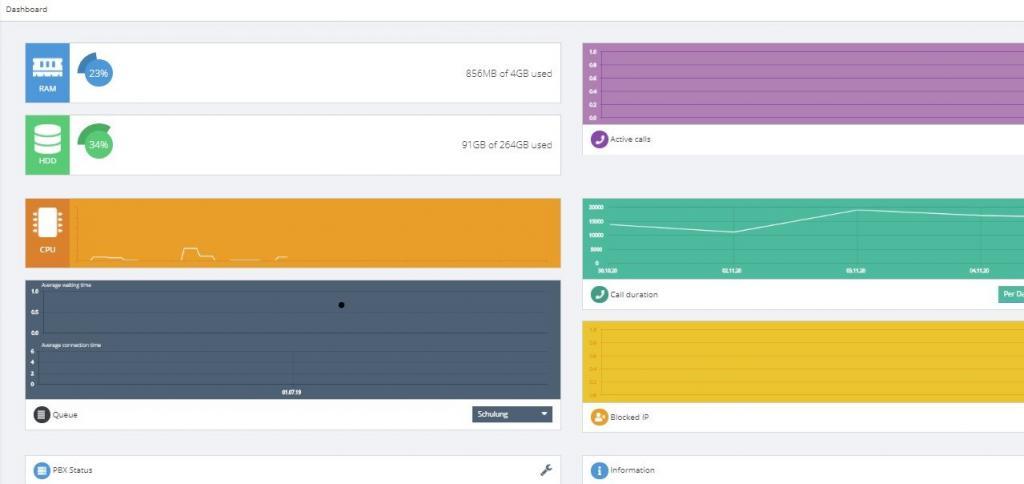 For example, the block "CPU load" update line, other fields (information and status block) are not being modified. They become blank, Web is a stateless protocol, just manual a screen refresh overcomes that.
If read/write /delete of the dashboard is disabled, the user immediately gets an error message on opening the web page. That not nice, as you cannot click it away.