CTI is a general term for Computer Telephony Interface. Microsoft developed and released in 1993 the "Telephony Application Programming Interface" (TAPI) to interconnect between PBX and PC. That TAPI protocol became a standard. Other standards for CTI interconnections are CAPI, TSAPI, JTAPI, CSTA, e-CSTA ua-CSTA. LRMS. etc.
TAPI #
Telephony Application Programming Interface (TAPI) is a standard interface to connect telephony with a server. A (Windows) TAPI server is responsible to handle the call flows between PBX and client. Microsoft released multi versions. TAPI version 1.x, 2.x and 3.x. TAPI 2.1 and 3.1 are still used today.
There are two types of TAPI interfaces. The 1st party TAPI interface communicates directly with an extension (Single line configuration). The 3rd party TAPI interface handles the telephones via the PBX (multi line configuration).
With the number of options in the TAPI specification, not all features might have been implemented by the manufacturer.
To connect the Ayrix with an TAPI application a TAPI server is required. That server talks to a TAPI driver or TAPI connector.
That tape connector connects the Ayrix IP interface port (5038). See Figure principle TAPI
Ayrix offers to use different TAPI applications. Multiple connections from different IP addresses are possible.
For hosted connections between TAPI clients (s) and Ayrix, a security module restricts unauthorized access on the TAPI port.
Principle TAPI Server #

The TAPI menu has a listed panel on the left and a configuration panel on the right. The listed panel shows the TAPI server connections. In the configuration panel you can assign a TAPI connection.
Field description
Authentication
Username
Enter username given with the TAPI services
Password
Enter a password, 7 digits or longer containing at least one uppercase and one lowercase, one digit and a special character
Description
Description is an information field to enter your notices about your TAPI connection. This is a longer field.

In the list panel press the "+" preceding the line to read your notice.

Deny
IP address
Enter an IP address to block for TAPI and,
Netmask
enter a blocked IP range/subnet, press "+" and "save"
Permit
Ip address
Enter an explicit IP address t for TAPI access and,
Netmask
enter an explicit IP subnet to whitelist for TAPI access. Press "+" and *save*
Housekeeping: IP address and subnet, without leading zero`s!!
TAPI connector or TAPI driver installation #
To connect the Ayrix with an TAPI application, or CTI client a TAPI server is required. Since Microsoft Windows XP, every Windows pc can used as TAPI server. Anno 2020 the most TAPI Installer files integrates a complete installation of your TAPI suite, Driver/connector, TAPI server and application. These modules are connected due installation as shown in figure: principle TAPI. Follow the instructions of your TAPI application supplier.
If you want to correct your configuration here is a general! guideline to check/install your TAPI connector/driver on Windows manually.
In Windows, go to Settings –> Control panel à "Phone and Modem options" -> tab: Enhanced, see picture check if your driver is loaded, if not
Press "Add" to add the TAPI driver, a 2nd window opens. The installed TAPI driver should be visible, select and press "Add" again.
Back in the Main window press "Configure", to add/change the connection, lines and extensions.
Enter the IP address and port number of the Ayrix.
Add TAPI lines and extensions.
That is all!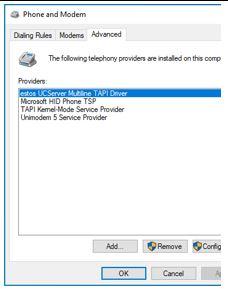 Example of ESTOS TAPI driver/connector
Go to Windows –> Control Panel -> Phone and modem options -> Advanced.
Press "Configure" to change
The TAPI installation a server configuration depends on the installation. Refer to your application supplier for a detailed installation description.
Housekeeping: TAPI is a core module. There are no additional license fees for TAPI. Nor a License rule  or other limitation. In the most cases the software supplier of the application counts a fee for the license. One of the having additional feature for free being attractive in the market.