The Records window offers you to prepare general announcements, as Voicemail Greetings or System recordings.
Announcements #
The Records window offers you to create general announcements for the system and users. Records can be Voicemail Greetings and system records.
The announcement window shows a listed panel of all announcements and a configuration panel. The tabs add, edit, and Duplicate and a search bar, to search a phrase in the Name field, upper/lowercase allowed.
Voicemail Greetings is just a single record. On "System Record" is a data-record to save announcements for multiple languages. First you create the data-record, then select the source file upload by browsing your local system or Record by Phone, you continue with upload by file or record selecting the extension.
By pressing *Record by phone" a pop-up window appears to select the extension for recording. A guidance leads you through the options.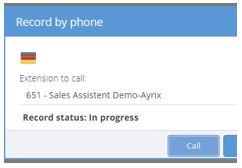 These announcements can be used for various features.
Field description
| | |
| --- | --- |
| Configure Announcement | |
| Name | Give your record a suitable name |
| Category | Select between a System Record or a Voicemail Greeting |
| Browse | Browses the local computer for any sound files |
| Record by Phone | Enables audio recording with a phone extension. |